PRIVATE RIDELOGS

If your ridelog recorded using the Trailforks app or synced from Garmin to Trailforks is set to private, then Trailforks WILL NOT sync it to Strava.

Strava no longer supports uploading activities as private, so we cannot keep the privacy of your ride when syncing to Strava. If you want your rides to sync from Trailforks to Strava, they must be public on Trailforks.

If you are syncing the other direction, from Strava to Trailforks, we support the syncing of an activities privacy. So if a activity is private on Strava it will remain private on Trailforks when synced.


NOT SELECTING "SYNC TO STRAVA" IN THE APP

We see this a lot, when you are done recording your ride in the Trailforks app and you go to the Save ride dialog, you must toggle ON the "Sync To Strava" option. The toggle state will be remembered the next time you save a ride, but this choosing to sync to Strava can be done on a per-ride basis.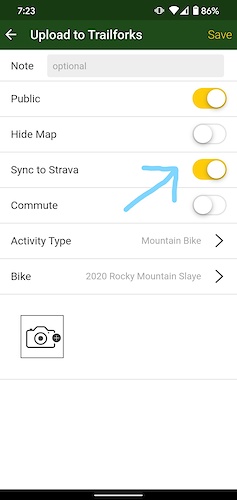 You can manually choose to sync specific ridelogs to Strava. View your ridelog on the Trailforks website and there is a grey "Sync to Strava" link in the bottom right of the page.